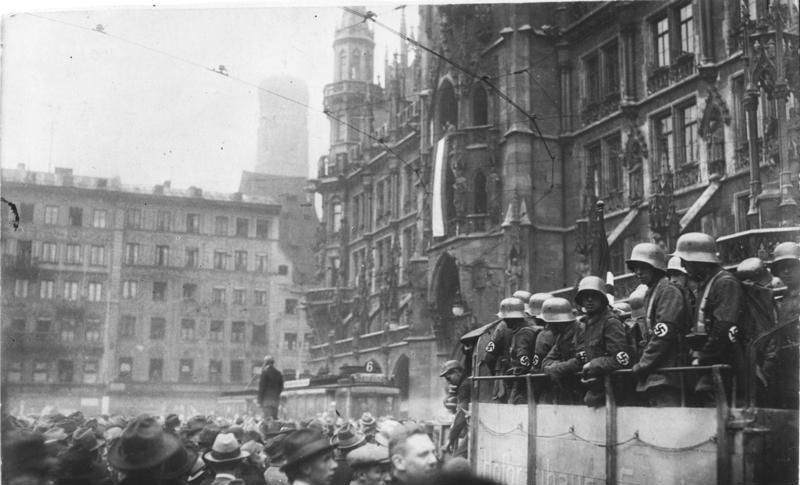 The Nazi's coup attempt in Munich in November 1923 failed but it succeeded in creating a national profile for its leader Adolf Hitler. He was a provincial Bavarian politician before the coup attempt; after he was a national right-wing identity. 
The ill-thought out coup plans were inspired by Italian fascist leader Benito Mussolini's successful overthrow of the Italian government from 22 to 29 October 1922. The Nazis envisaged Munich would be the base from which the federal government in Berlin would be taken over. 
Germany in 1923 was ripe for revolution. Increasing numbers of right-wingers were hankering for it. Hyper inflation had rendered the mark virtually worthless. There was widespread dissatisfaction with the government's failure to manage the economy. Outbreaks of violence were common and after a series of incidents the Bavarian Prime Minister Eugen von Knilling announced a state of emergency on 26 September 1923. He appointed Gustav von Kahr state commissioner with dictatorial powers to govern the state. Kahr, with Bavarian state police chief Colonel Hans Ritter von Seisser and army General Otto von Lossow, formed a ruling triumvirate.
Hitler announced he would hold 14 mass meetings from 27 September. Kahr, in an attempt to stop more disruption, banned the meetings. Beer halls in 1920s Germany were large meeting places where thousands of people would drink, socialise and talk politics.
Hitler turned to Great War General Erich Ludendorff to persuade the triumvirate to support him. But Kahr had other plans that didn't include Hitler. On the evening of 8 November Kahr gave a speech to 3000 people at the Bürgerbräukeller beer hall. Hitler and 20 others marched in, fired a shot to gain attention, announced a revolution had started and the government had been overthrown. Kahr and his associates were detained but released at about 10:30pm when Hitler left the hall.
When police found out about the coup attempt, they occupied the telegraph office and telephone exchange which deprived the Nazis of key communications essential for success.
At about 3am soldiers saw Nazis leaving the hall and ambushed them. There were no casualties on either side. The army called for reinforcements. By mid-morning it was clear the coup had failed. Ludendorff ordered the Nazis march to the Defence Ministry. About 2000 marched but were blocked by 130 soldiers who opened fire.  Four state police officers and 16 Nazis were killed. Hitler, wounded, fled. He was arrested two days laster and charged with high treason. Ludendorff refused to have anything more to do with him.
Hitler was arrested two days later and charged with treason.  He used the trial to make inflammatory speeches that generated international headlines. The coup and its aftermath had three consequences for Hitler. He:
Used the 24-day trial to make inflammatory speeches propagating his cause;

Wrote Mein Kampf (My Struggle) in prison. The rambling treatise gave the impression of authority and substance; and 

Decided to seek non-violent means of attaining power.
Hitler was found guilty of treason and sentenced to five years in Landsberg Prison. Political pressure forced his early release nine months later.