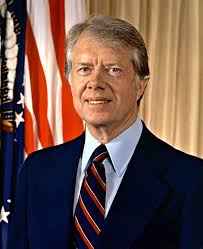 Earnest but ineffective was how my right wing international political professor described the 39th president of the United States. He was replacing his objectivity with his political views. Today, 1 October, is President Carter's 93rd birthday.
By any objective measure, President Carter, in office from 1977 to 1981, was effective. Among other things, he:
Made human rights a fundamental consideration in the United States' relations with other countries
Suspended economic and military aid to Chile, El Salvador and      Nicaragua in protest of those regimes' human rights abuses
Limited arms sales to military dictatorships
Created the Camp David Accords between Israel and Egypt that lead to an historic peace treaty in which Israel withdrew from the Sinai and the two sides officially recognized each other's governments
Established the Department of Education
Increased college tuition grants for needy students
Ended federal price regulation of trucking, interstate buses, railroads and airlines
Established the Department of EnergyIntroduced tax incentives for home insulation and for solar energy.
Exemplary leader
Carter was, and is, a leader. His chief domestic policy adviser, Stuart E. Eizenstat,
wrote
in the New York Times in 2015: "(Carter's) defining characteristic was confronting intractable problems regardless of their political cost. His closest aide and confidant, Hamilton Jordan, ruefully joked that the worst argument to make to President Carter to dissuade him from action was that it would hurt him politically."
Eizenstat writes Carter's determination to do what he thought was right was one of the reasons his term is not seen as favourably as it should. Carter trained as an engineer. He saw his role as finding "comprehensive solutions to fundamental challenges" but the US political system is designed for incremental change. What he delivered didn't match what he'd promised.
"Some presidents have an indefinable quality of making half a loaf seem like a victory, but Mr. Carter did not really recognize politics as the art of the possible. When he won, he looked as if accepting compromise was a loss. Mr Carter did what he considered "the right thing" for his country, and let the political chips fall where they may".
There were failures, of course, as there are with every presidency: the energy crisis and the Iran hostage crisis are the highest profile ones. But Jimmy Carter changed the world for the better.
Life's work  
And in keeping with his deep commitment to leadership, humanity and doing good, he set up the
Carter Center
that wages peace, fights disease and builds hope. The Carters' accomplishments in an out of office are
many
. President Clinton awarded Jimmy and Rosalynn Carter the Presidential Medal of Freedom on 9 August 1999. Clinton said: "Jimmy and Rosalynn Carter have done more good things for more people in more places than any other couple on the face of the Earth."
The man from the small town of Plains, Georgia, has been fighting for civil rights throughout his public life. He was the only white man in Plains in the mid-fifties to refuse to join the White Citizens' Council segregationist group. His front door was
vandalised
with the words: "Coons and Carters go together". His political career started in 1955 when he was elected to the Sumter County Board of Education which he went on to chair. He ran for a Georgia Senate as a "New Southerner" against local business man Homer Moore who was elected. But voter fraud was obvious. In one precinct, 333 ballots were issued but there were 420 cast. Carter won a court appeal. During his two-terms in the Georgia Senate, Carter earned a reputation as "tough and
independent politician
, curbing wasteful spending and steadfastly supporting civil rights" .
He was a Democratic party candidate for Governor of Georgia for the 1966 election. He finished a distant third in the primaries. White segregationist and restaurant owner Lester Maddox won the nomination and the governorship. He was
known for
barricading the doors of his restaurant and "brandishing an axe to ward off black customers".
Carter was assiduous in his campaign to win the governorship at the 1970 election. He toned down his liberal position and won over white men he needed to win. "Ignorant, racist, backward, ultra-conservative, red-necked South Georgia peanut farmer" was how the liberal Atlanta Constitution Journal described him. His strategy worked and he beat Carl Sanders to become governor of Georgia.
In office, he returned to his values and:
Called for an end to segregation
Increased the number of black officials in state government by      25 percent
Promoted education and prison reform.
Transformed the state bureaucracy into an efficient organsiation.
He was the least known candidate when he nominated for the Democratic Party primaries for the 1976 presidential election. He signalled he was going to be a different president from the outset. After his inaugural speech, he got out of his limousine and walked with his supporters to the White House.
Delivering his Nobel Lecture in 2002, after being awarded the peace prize, Carter
concluded with words
that can be seen as both his life mission and his call to action for future generations.
"The bond of our common humanity is stronger than the divisiveness of our fears and prejudices. God gives us the capacity for choice. We can choose to alleviate suffering. We can choose to work together for peace. We can make these changes – and we must."