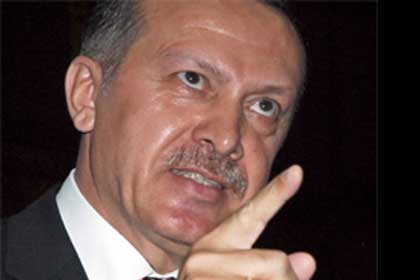 The 84th anniversary of Adolf Hitler's assumption of power is in just a few days. There will be a vote in Turkey in just a few months for a new constitution that could give President Recep Tayyip Erdogan (above) unchecked power. History has a litany of examples of the disastrous consequences of unchecked power.
"Absolute power corrupts absolutely" is an oft-quoted phrase attributed to the nineteenth century English historian and moralist Lord Action. The full quote is in a letter he wrote to Bishop Mandell Creighton in 1887: "Power tends to corrupt, and absolute power corrupts absolutely. Great men are almost always bad men."
And that's why attempts to attain absolute power must be resisted. Unchecked power has consequences for which there is no redress. The great strength of the United States Constitution is its checks and balances.
The President of the United States borrowed from the Hitler playbook during the election campaign. Turkey's President Recep Tayyip Erdogan is doing the same. I am not suggesting Erdogan is another Hitler. But I am suggesting there are similarities in the way Hitler attained absolute power and what Erdogan is doing.
A guaranteed way to unite the people is to create a crisis. The German national legislature, the Reichstag, was destroyed by fire on 27 February 1933. Elections had been called for 5 March. The government declared it was arson and blamed the Communists. Dutch Communist bricklayer Marinus van der Lubbe was charged and executed. But there's doubt he was the culprit. Nevertheless, 4,000 Communists were arrested. The day after the fire the Decree for the Protection of People and State became effective. It gave the government power to:
Arrest and imprison people without a specific charge
Dissolve political organizations
Suppress publications.
Erdogan's apparent opponents attempted a coup on 15 July last year. Erdogan  accused a US-based Muslim cleric, Fethullah Gulen, of fomenting unrest. Mr Gulen denied involvement and condemned the coup. But in the conflict's aftermath, 6,000 people, including high-ranking soldiers and judges, were arrested.
Now Erdogan wants to create a presidential government. The proposed constitution includes giving the president power to:
Decide whether or not impose a state of emergency
Intervene in the judiciary
Directly appoint top public officials, including ministers.
Turkey has a history of political instability and coups; there had been four since 1960. But that is not a reason to give the president untrammelled power, any more than the alleged external interference in the country's political affairs.
Liberty deprived isn't usually won back. I hope the Turkish people reject the new constitution which would lead to a president having unchecked power and all the inherent danger that would bring.