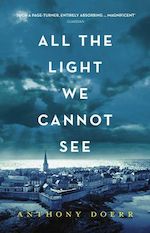 This multi-layered, tightly written, emotionally laden novel is one of the best I've read. It's the story of Werner Pfennig, a gifted German boy and Marie-Laure, who cannot see.
The narrative spans the inter-war years and Occupied France, described in meticulous detail in words that transport you to that time. Marie-Laure is six years old when the novel begins in Paris in 1934, where she lives with her father, a locksmith and keeper of the keys at the Muséum National d'Histoire Naturelle. Two hundred years ago an accursed diamond with a red hue at its centre, the Sea of Flame, was hidden in the muséum. The gem has magical qualities, about which a German officer learns and he makes it his quest to find it which adds an interesting layer to the narrative and contributes to the tension.
Marie-Laure is blind and her father makes puzzles and miniatures of the streets and houses of Paris so she can navigate the city. One miniature plays a key and consistent part in the novel.
While Marie-Laure is learning to find her way around, orphans Werner Pfennig and his sister Jutta are growing up in the German mining town of Zollverein, near Essen. Werner is seven when the novel begins and already his gift for science and the intricacies of radios is clear. The Nazis realize his talent, and they send him to a National Political Institute of Education, indoctrination schools for German boys. The experience severely tests Werner's morality by the horrific bullying of his friend Frederick.
When the Nazis invade France in June 1940, Marie-Laure and her father escape Paris and take refuge in Saint-Malo, on Brittany's coast where he becomes involved with the Resistance. He brought the Sea of Flame with him.
The Nazi's put Werner's genius to work to fight the resistance in Nazi occupied counties. His task is to track radio transmissions throughout Russia and Central Europe, and ultimately Saint-Malo, where Marie Laure's great uncle and Resistance member Etienne uses his radio transmitter. 
As the Allies advance, the Sea of Flame pursuit continues and Werner and Marie-Laure are brought together.
Anthony Doerr portrays his characters and the horror of Nazism and the Second World War in brilliant detail. The short-tightly written chapters, coupled with expert handling of conflict and tension, make for a page-turning and rewarding read.